WE LOVE HELPING PEOPLE ACHIEVE THEIR GOALS
At Genetic Synergy, you are more than just a client. Your goals become our goals. From working hard in the gym, to cheering you on from the sidelines of your event, our team will be with you every step of the way. But don't just take our word for it, see what some of our athletes have to say!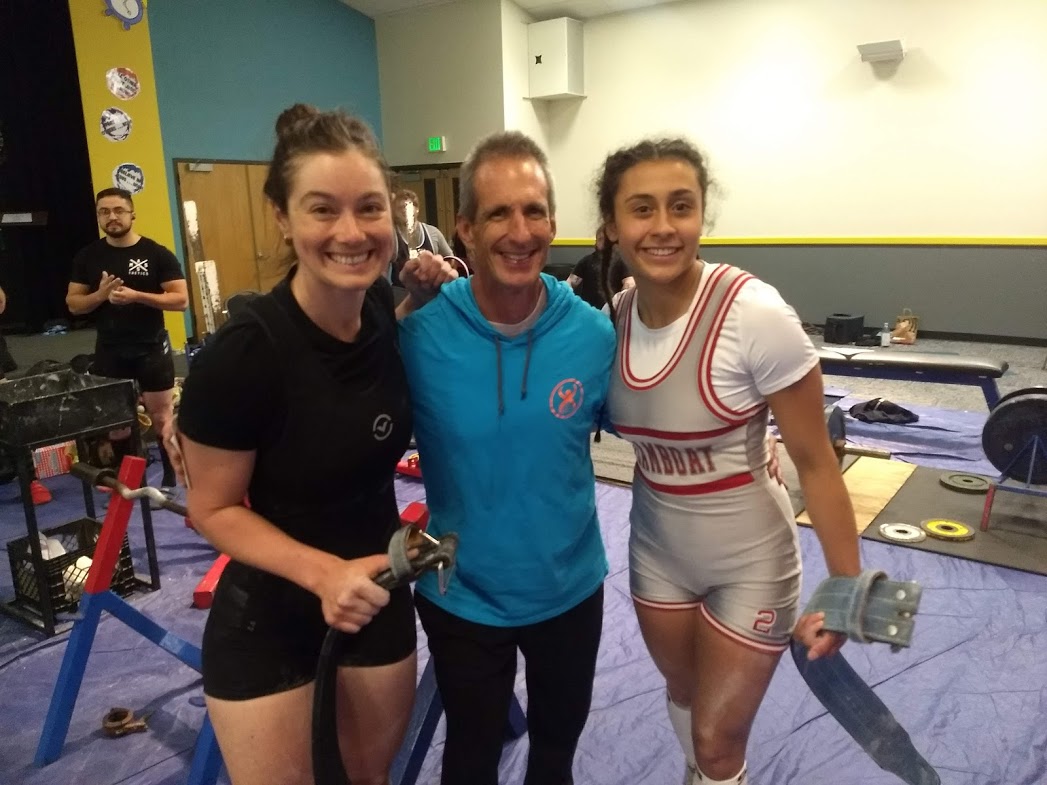 Training with Charlie, and the Genetic Synergy Team, has changed my perspective on workouts and how to approach strength building as a whole. His knowledge of both physical training techniques and exercise nutrition have been game changing. For someone like me, in a high-impact and injury prone sport, working with Charlie has been invaluable. I've made some big improvements that will increase my durability and help keep me around for a long time! Plus, he is always willing to tailor his programs according to my training schedule and energy level. I'm grateful to have met Charlie and I'm looking forward to competition season!
US Ski Team
2015 North-American Grand Prix Champion
A HUGE overdue THANK YOU to all who have been helping in the recovery process for my hamstring/sciatica injury… special thanks Charlie Chase. Charlie has been an outstanding role model throughout my journey into competitive running. He is truly and unequivocally the most incredible strength trainer in the world.
3rd Place 2015 XTERRA World Championships
I moved from NYC to Steamboat in January of 2011 and felt that I had a solid handle on my life. I was ready for a new challenge. My husband and I met Charlie a few years later and decided to increase our investment in our health. I'd always lifted weights in addition to swimming but I never knew how little I actually knew until Charlie showed me the way. We got right into it and I lifted with Charlie through my second pregnancy. Once my life stabilized (again) after the birth of my daughter, I needed a challenge. Charlie gently suggested that I leverage the baseline I'd built swimming and train for a physique competition. Competition…this word did not make me comfortable even after all of these years. Nevertheless, I ignored old feelings, embraced fear and went after it. Charlie worked me through the program and worked with me on modifications to ensure I could keep swimming. In the end, I placed 1st in three categories, 4th in one and qualified for nationals. It was the first time I had put myself in a competitive sporting event in 17 years and I did okay! Phew!
Charlie offered unwavering support and even went so far as to attend the 10 hour event. I'm grateful to him for the push. Moreover, I'm grateful for what I've learned along the way as he has given me tools that I will carry with me for the rest of my life. Now he has a new task, which is to convince me to compete for Nationals 🙂

When I was a small baby girl I had a dream to be a ballerina. And I made it! When I was 3 years I started to dancing with tutu in Oak Creak, Colorado. And till my 16th birthdays I continued my dream but like a Rhythmic Gymnastics in Czech Republic. Then I decided to test my body in harder sport and I became racing on a mountain bike. I raced in Europe and I had a lot of fun. I never had a specific trainings. I just rode my bike every day with smile and usually every weekend I had races. And it works. BUT one day I met awesome human being, Charlie. He showed me that weight training in his wonderful gym can improve your sport skills in a few weeks really well!
Each person on this planet has some role, a talent which will fills you and make you happy. And if you find deep inside yourself what it is, you can share your skills and help others to discover their talents… simply be connected together… find a secret of deep awareness of Love and Light.
Charlie is one of it. He is working with each client personally, with huge honesty and with really good experiences.
So when Charlie asked me to type up a little something about our weight training, I can say a few important points: to be who you really are, be patient, be mentally strong, listen your body and inner voice… and Meditate. Thank you Charlie for your work with me.
Written while competing at Olympic Trials
Exercise Physiology, M.A.
Certified XC Ski Instructor & Coach
​
I'm a long distance runner and cross country skier. I've never really liked to exercise indoors. I'm content to simply run or ski for hours and hours until I'm exhausted. But I've always known that I should strength train for all those important physiological benefits it offers like increased bone density and increased muscular endurance. I NEVER thought I would actually enjoy strength training in a gym, but I do now! After training with Charlie for this past year, I look forward to lifting heavy things! And when I run or ski long in the mountains, I have more durability and power. I believe that I'm less prone to injuries, and I actually recover quicker from all those inevitable "niggles".
Thank you, Charlie, for training me and for your precise coaching. I appreciate the detail you give to my pre-race taper and post-race recovery, as well as my day to day energy levels. It is working for me!

Training with Charlie has truly been life-changing! Through him I have discovered the joy of lifting, and it is something I will carry with me for the rest of my life. When I met Charlie I had never touched a free weight and had no idea what a deadlift even was—but he recognized my potential as a strength athlete, taught me how to powerlift, and encouraged me to compete! Training for and competing in my first powerlifting meet was hands-down one of the most incredible experiences I have ever had—through it I became mentally and physically stronger than I even knew was possible! I am so thankful to Charlie for his training and coaching. His training programs are
simple, effective, and tried-and-true, and he always has a holistic perspective on performance that takes into account the power of the mind, the necessity of a healthy diet, and the importance of a sustainable approach that allows for life-long health and strength. Thank you Charlie!! I can't wait to compete on the Colorado team at the NASA Team Nationals this coming June!
Cameron Rasmussen

Training with Charlie has changed me in not only how much weight I can lift, but my whole perspective in the way I look at myself as an athlete and the way I train. Since I've started training the boys that I have wrestled are always in for a surprise. Charlie is one of the major reasons that I have grown tremendously as an athlete and can continue to shoot down the path of success.
As a lifelong lifter and a certified personal trainer, I can wholeheartedly recommend Charlie to any level of athlete looking for a strength coach. He has a wide base of knowledge garnered from old school training methods, the latest scientific research, and even holistic practices. In addition to his knowledge, Charlie's personal attributes set him apart as an exceptional coach—he's a humble and intellectually curious person who's willing to explore a variety of strategies to help his athletes achieve their goals. Finally, Charlie's cheerful, supportive demeanor makes it easy for his athletes to stay motivated, train hard, and compete with confidence.

Charlie Chase and Genetic Synergy have been a excellent resource. Working out with Charlie has been FUN, improved my health and helped me achieve my athletic goals. I am a physician a lifetime athlete, professional coach, and have a significant amount of exercise physiology education. Despite my background, Charlie has been able to provide a substantial new information and improve to my technical and physiologic understanding of lifting. Currently I am a competitive mountain bike enduro racer and a Masters Nordic coach. Charlie has helped improve my lean muscle mass and muscular strength, while helping heal numerous past injuries. After working with the GS team, I'm significantly more durable! During the last year's enduro season I had less pain and survived some significant crashes without injury. I achieved this despite having increased work and personal stress that reduced my preparation. Despite these challenges, Charlie helped me be durable, and I was consistently on the podium.
Thanks to Charlie, it's always fun and safe environment where he respects how my body is feeling that day and incorporates my feedback into training sessions.
Thanks Charlie!
We've been riding downhill bikes for many years. It's always been a great passion, and a way for us to connect with friends and the outdoors. Recently we've been gearing our riding focus more towards the race oriented side of the sport. It requires supreme fitness, focus, and a training program that can address all those needs. We've been a physical couple, working out regularly, doing yoga, and riding as much as possible. Charlie brought a level of knowledge to our new training regime that we didn't know existed. His professionalism, combined with his compassion for those he works with provides an unparalleled training experience. Charlie brings well researched and thought out nutrition coaching, as well as one of the most progressive training programs available. We've been stronger, faster, and healthier than ever training with Charlie. We can't thank him enough for the support he's given us!
Kaitlin and Geoff Hollister
I have been a fitness and nutrition focused professional athlete for 6+ years. Before that I was a 4-year top performing NCAA Division 1 baseball player. Charlie's experience and focus on efficiency in the human body supersedes anyone I've been around. I continue to consult with Charlie, and I live in Canton Ohio. I highly suggest anyone looking for effective, straightforward, yet creative advice on nutrition, or strength and conditioning, to build a relationship with Charlie. His resources include a diverse team of experts beneficial to any athlete or healthy lifestyle-focused individuals. He will implement measurable benchmarks and help you toward your goals. Charlie Chase is worth it.
1st Place
2015 NASA USA National Powerlifting Meet, Pure 148lb Class
1st Place
2014 NASA Colorado Regional Powerlifting Meet, Pure 148lb Class, Making him National and State Champ!
Flores Wins National Power Lifting Title
Rodrigo Wins the Fall Classic in Steamboat Springs
I really enjoy working with Charlie. Everything he does is professional, and he helps me excel at the things I need to improve upon. Charlie's exercise program has made my body stronger and more defined. Thanks to Charlie's help, I have won four power-lifting competitions. In addition to being a great trainer, he is a great friend. Thank you so much for all your help, boss.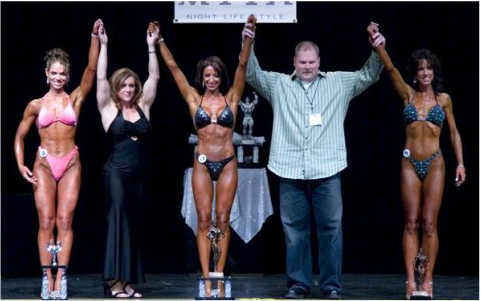 Charlie has been a huge influence in my life. He was the one to get me interested in weight lifting when I was 43 years old. I was looking for a workout routine that I could stick with, enjoy, and see results with. Charlie taught me not only how to lift but how to lift correctly. He was very patient and understanding of my inexperience with weights at that time.
Since working with Charlie I have gone on to compete in Figure – part of body building. I still lift and still enjoy it just as much almost 10 years later. My son has also begun lifting and Charlie showed him the ins and outs as well. Patiently explaining form and what each lift does and why we do the different lifts. What my son and I have learned from Charlie is invaluable. Thank you Charlie!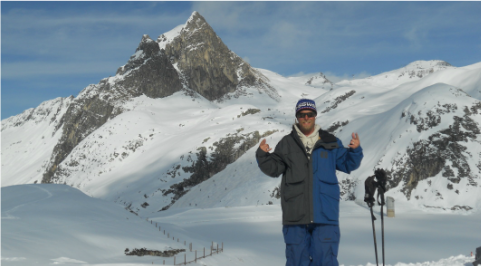 My Name is Jonah Drescher. I have been a top athlete and coach my whole life.I spent the early 90's on the US ski team and have had three Olympic medalists, one world champion, and many world cup athletes go through my coaching programs. When I wanted to take my strength and fitness to the next level I contacted Charlie at Genetic Synergy. Even top coaches need a coach! Charlie has helped me work smarter, harder, and the results are fantastic! I will continue to work with Charlie and incorporate Genetic Synergy and their knowledge into my programs and athletes. Thanks Charlie!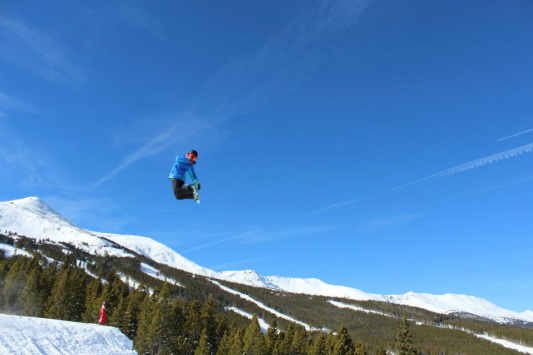 My name is Mikaela Casey and I started working out with Charlie about a year ago. I compete in freestyle snowboarding on a professional level so fitness is very important to me. Charlie used to train my sister when she was in high school so when my dad ran into him in the supermarket and told him my story Charlie said that he would train me. I was a little skeptical at first because I have never done any heavy lifting (yoga and cardio are generally my go to). However, I decided to try it out and started going to Charlie twice a week to lift. We only had about 2 months together before I had to go to Colorado so we did an intense power program. I was absolutely blown away at how much improvement there was from week to week. My numbers went up and although there were days of being sore I could feel my whole body getting stronger. I couldn't do a single pull up at the beginning and by the end of the 2 months I could do 9. I also started attending Charlie's cycle and Yoga Sculpt classes at Pedal Wild to balance things out. I am not sure I have ever sweated more in 60 minutes than I did in these classes.
What was even cooler about the experience was when I got back on snow. It took a few days to get my legs under me but the first day the jumps opened I landed almost every trick. I was landing tricks that I normally would have fallen on from landing too much on my heels or taking the jumps deep. But this time right when I landed I could feel my leg and core muscles engage and really help me ride away.
Overall, I have had a great experience training with Charlie and really owe a lot to him. He is such a good guy with a lot of knowledge on strength and endurance and I would recommend his training to everyone!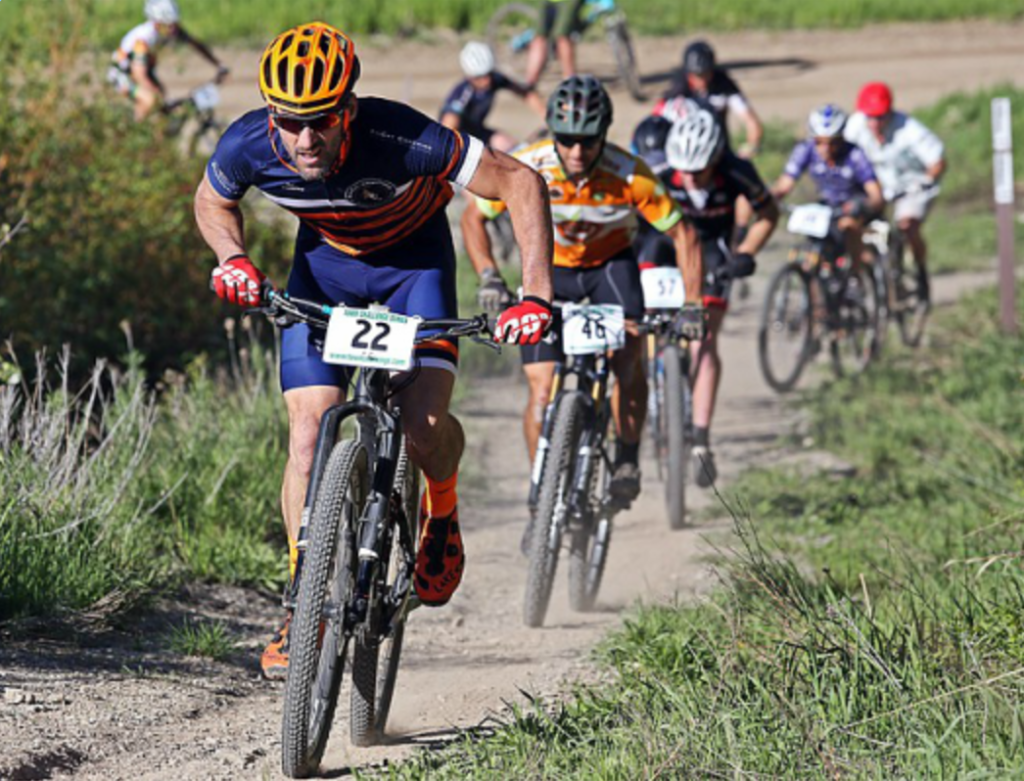 Hey Charlie,I did a field test on Saturday and my numbers were awesome compared to last year! I think it's working!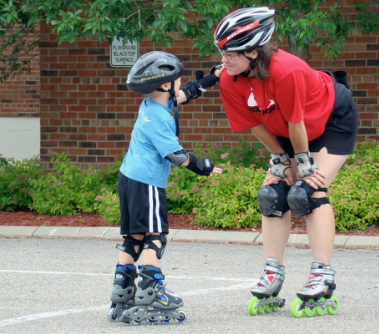 Charlie is an exceptional educator, driven towards detailed excellence in all his pursuits. Any individual or organization working with Charlie can be assured the receipt of personalized, up-to-date, efficient, premier, and easy-to-understand educational techniques and materials. Perhaps most impressive, is the human touch provided by Charlie. By taking an altruistic no strings attached approach, Charlie takes great pride in results often following up with you and your organization to ensure your satisfaction and success.
Noelle K. Robichon
Owner, Robichon's The Original Inline Skate School,
www.robichons.com
612.910 (ROLL)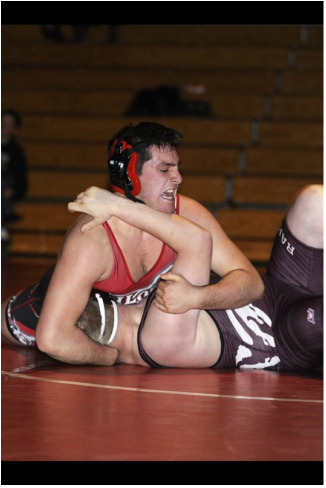 Hey Charlie I just want you to know that you have changed my life in so many ways I wouldn't have been able to do the things in wrestling that I have done without you I am using your program you sent me a while back and I'm loosing weight fast and my body is changing as well once again thank you!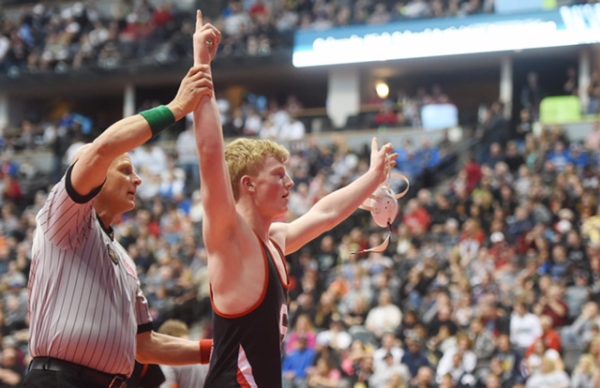 3 Time Colorado State Runner Up
Training with Charlie over the last few years has helped me improve drastically as a wrestler. After my first high school season I was not pleased with the results. I had come up short of qualifying for the state tournament. Over the next summer Charlie developed a plan to increase my strength which would put me at the next level. The following year I punched my ticket to the state tournament and made it to the finals. Making strength, flexibility, and cardio improvements in the offseason helped immensely, and it showed in season. I attribute much of my success to Charlie's program which made me stronger and allowed me to compete at a high level. I highly recommend working with Genetic Synergy and Charlie as you will see great results.
3 Time Minnesota State Champion
2013, 2014, 2015
​
Eighth grade year I started a power lifting program with Charlie. At first I didn't know why I was lifting. All I knew was wrestling. My benchmarks, which are our starting point, were low. But after working with Charlie I have greatly improved them. My bench press alone is up over 150 pounds. Through the times of being sore after lifting, great payoffs have come. In eighth grade I placed 6th at the state high school wrestling tournament. As a ninth grader I placed third. And finally, what I have been working for. After a long hard year of wrestling, lifting, and cutting weight, I won the state title as a sophomore.
Not only did we lift with Charlie, but after lifting we would go out tubing on Lake Minnetonka which was a blast!
It was our way of having fun but still putting the extra workout in! (Especially the way my dad drives.) I would choose to lift and train again and again with Charlie's program. It helped in every way and it was a great decision.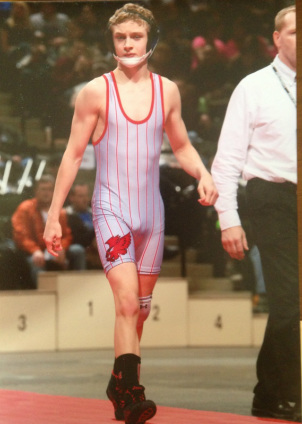 Minnesota Runner Up
2013
The weight training program throughout the summer that Charlie runs has impacted my wrestling greatly and has improved my strength to where I am now. As summer wrestlers make winter champions, Charlie's program has proved that statement true. With becoming stronger through the program it made wrestling kids my size a lot easier to control from all positions during the match. Whether it was trying to escape from bottom or finish strong on a take down, it has positively benefited my wrestling abilities. When it came down to crunch time, increasing my weight and strength over the summer helped me excel in the state tournament. I highly suggest training with Charlie as you will see rapid results through his program.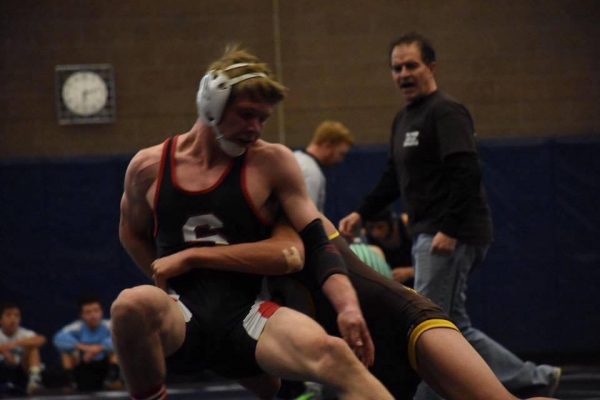 4 Time State Entrant
Training with Genetic Synergy throughout my high school wrestling career was an absolute game
changer for myself. Charlie is unbelievably knowledgeable when it comes to every aspect of training
which for me, being a wrestler, included weight lifting, cardiovascular training, diet, and healthy ways
for me to get down to the weight I wanted to be at. Training was completely catered to myself and my
goals which certainly helped me get out of it what I wanted to. I cannot express how grateful I am to
have found Charlie my freshman year and work with him throughout the rest of my wrestling career.
Thanks again!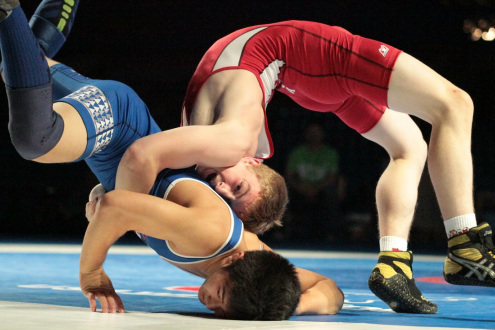 Minnesota Runner Up
2013
​
This program helped immensely. I noticed an increase in numbers the very next time we tested. It helped me achieve my 3rd place finish at state in high school wrestling, and my runner up finish at nationals in Fargo for wrestling Greco. Charlie was very supportive and up-beat every time we went to work out with him. The lifting was quick and intense. We showed up, warmed up, and lifted then were gone within half an hour of starting.